Are you looking for a wide selection of natural and organic food products?

Do you need specialty products such as gluten free or diabetic alternative ingredients?

Tired of running all over town for those hard-to-find herbs and spices?

Do you enjoy relaxing herbal teas and international coffees?

Are you searching for that one store to meet your unique dietary needs?
Nature's Own, a natural foods market in Southern Pines, NC, carries a wide selection of natural, organic and herbal food products and locally produced products. From a vast array of herbal teas and remedies to organic products for healthy living. A dizzying array of herbs, roots and whole spices. From gluten free products for those suffering from celiac disease to nut flours for diabetics. Natural foods, medicines and cosmetics for those tired of the increasing numbers and types of chemicals found in most products. Start enjoying a healthier lifestyle with natural food products from Nature's Own.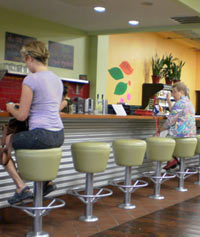 Enjoy freshly prepared, all organic fruit and vegetable juices as well as organic fruit smoothies at our Juice Bar. Or savor a nutritious breakfast of fair trade organic coffee with our fresh, homemade breads and muffins prepared in The Kitchen at Nature's Own. Take your lunch to a whole new level with a delicious bowl of our organic soup du jour, freshly prepared by The Kitchen at Nature's Own, available to eat in or take out. We also offer "ready to grab & go" organic sandwiches, salads and bottled organic juices and drinks for when you need a meal in a hurry. Are you interested in the latest news, photos and new menu items being created at The Kitchen at Natures Own? Follow us on Facebook!
"Grab & go" organic sandwiches, salads & bottled organic drinks

Wide selection of herbs and spices

Natural, organic, gluten free products.

Our famous Milton's Prairie Bread house made in The Kitchen at Nature's Own
We specialize in the hard to find natural foods, locally produced products and can even special order some products. Experience the wholesome flavor of natural foods. Come by our store on Bell Avenue in Southern Pines today! View Map & get directions.